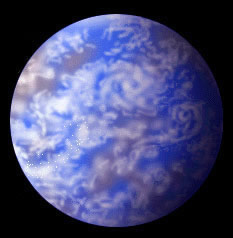 oceanearth
Past Projects and Participants -- Team Leaders
Background
For Participants
Get Involved
Learn More About ...

"Diver On the Way to Work"


The success of the Kosrae Reef Protection Project is due in large part to the efforts of a relatively small group in individuals. Since 1996, dedicated divers and support personnel, have given generously of their time and resources to demonstrate their belief in the value of environmental stewardship. Significantly before the issue of global warming became part of the popular lexicon, and before dive agencies and other institutions began to emphasize the need for conservation of reef ecosystems, these volunteers recognized the status of the coral reefs as bellweather indicators of the health of the planet. Without the willingness of these individuals to contribute their time and skills, this project would not have been possible. The photos at right acknowledge the project personnel and just of few of the international volunteers who have worked with us over the years.



KATRINA ADAMS

OWNER - KOSRAE VILLAGE

RESORT

PADI MSDT INSTRUCTOR

SSI, AND NIADD INSTRUCTOR

KOSRAE MOORING

BUOY PROJECT

COORDINATOR

RESPONSIBLE FOR

REEF SURVEY

DESIGN AND DEVELOPMENT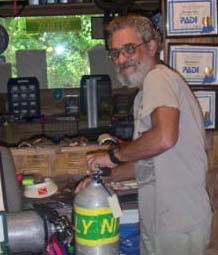 BRUCE BRANDT

OWNER - DESIGNER / BUILDER

KOSRAE VILLAGE RESORT

PADI MSDT INSTRUCTOR

SSI, AND NIADD INSTRUCTOR

DEEP - TECHNICAL DIVER

U/W PHOTOGRAPHY

& VIDEOGRAPHY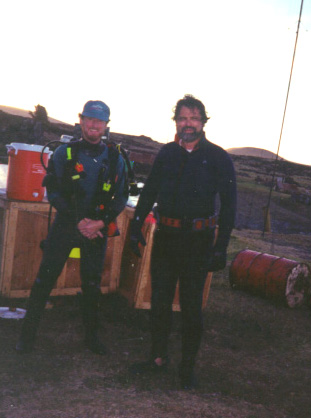 DR. STEPHEN E. SMITH (LEFT)

U. S. PROJECT COORDINATOR

PADI MASTER INSTRUCTOR

SSI, DAN AND RED CROSS

INSTRUCTOR

MEMBER,

AMERICAN ACADEMY

OF UNDERWATER SCIENCES

FELLOW AND PAST CHAIR,

NORTHERN CALIFORNIA

EXPLORERS CLUB

DIVE SAFETY OFFICER

ST. MARY'S COLLEGE

WITH DR. ROBERT SCHMIEDER

(CORDELL EXPEDITIONS)

EASTER ISLAND EXPEDITON






DR. SUE ESTEY

PROJECT TEAM LEADER

TECHNICAL WRITER

MEMBER,

AMERICAN ACADEMY

OF UNDERWATER SCIENCES

FELLOW,

THE EXPLORERS CLUB

SCIENTIFIC AND CAVE DIVER

UNDERWATER

PHOTOGRAPHER

MEMBER,

NORTHERN CALIF.

UNDERWATER

PHOTOGRAPHIC SOCIETY

MEMBER OF MANY RESEARCH

EXPEDITIONS





DOT (DOROTHY) NORRIS

PROJECT TEAM LEADER

MARINE BIOLOGIST

MEMBER,

AMERICAN ACADEMY

OF UNDERWATER SCIENCES

CREW MEMBER,

CATALINA

HYPERBARIC CHAMBER

DIVE SAFETY OFFICER

CITY OF SAN DIEGO

MEMBER,

SAN DIEGO UNDERWATER

PHOTOGRAPHIC SOCIETY